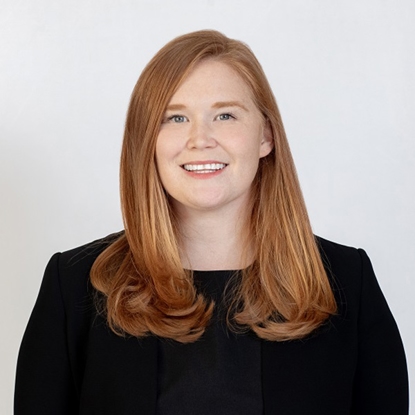 Evelyn Mitchell
Bio
Evelyn Mitchell is an experienced trial attorney who has taken on complex family law matters in Virginia and the District of Columbia. She has received several awards, including the following:
Super Lawyers Rising Star, 2021
Top 100 in Virginia for Family Law from the Association of American Trial Lawyers
Top 40 Under 40 for Criminal Law from the American Academy of Attorneys
10 Best Family Law Attorneys for Virginia for Client Satisfaction by the American Institute of Family Law Attorneys
Family Law:
Ms. Mitchell has successfully navigated complex domestic cases involving privately held corporations, hidden funds, government seizure of marital assets, wasteful dissipation of marital assets, and pensions, and dividing sole proprietorships. She has litigated custody, visitation, spousal support, child support, divorce, and modifications of prior orders. Ms. Mitchell has appeared in all Northern Virginia Courts and the District of Columbia Superior Court.
Additionally, Ms. Mitchell has completed dozens of Order of Protection (PO) hearings in Virginia and the District of Columbia, appearing for both the person seeking the Order and the person defending the matter. She has won difficult PO hearings and has argued before the Superior Court to the District of Columbia Court of Appeals. Having appeared on both sides in Order of Protection matters, Ms. Mitchell understands how to win at trial and overcome the odds.
Ms. Mitchell also litigated Rules to Show Cause, which are used to enforce court orders. Each Rule to Show Cause can result in serious consequences for the person responding to the Rule. Ms. Mitchell focuses on bringing the matter to the best possible conclusion.
Biography:
Ms. Mitchell is an active member of the community and was admitted into The Rule 6.1 Society for her pro bono efforts in 2018. Attorneys are admitted into this Society if they have rendered at least 2% of their billable hours to pro bono work. She has donated her efforts to criminal, family, and divorce matters. Additionally, she has served as a Columbia University Summer Mentor and has served as an alumni interviewer for the university.
Ms. Mitchell is originally from South Carolina. She attended Columbia University for her undergraduate studies and the University of South Carolina for her Juris Doctorate. She lives in the District of Columbia with her husband and sons. Ms. Mitchell is a former Pirette for the Beaufort County Water Festival.
Ms. Mitchell is a member in good standing of the bars of Virginia, the District of Columbia, and Maryland. She is currently inactive in the State Bar of South Carolina. She has been sworn into the Supreme Court of the United States.