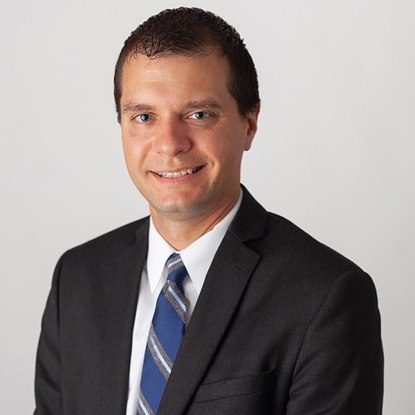 Eric Shamis
Bio
Prior to joining King Campbell Poretz & Mitchell, Eric was a prosecutor with the Loudoun County Commonwealth's Attorney's Office for over eight years. During that time he tried over seventy-five jury trials and hundreds of bench trials. The criminal cases he handled were some of the most complex and important within Loudoun County over the past decade. He handled jury trials involving charges of murder, manslaughter, robbery, burglary, felony assault, illegal firearm possession, drug distribution, drug possession, DUI, felony DUI, reckless driving, and domestic assault, amongst others. This experience gave Eric an in-depth insight into how a case moves through the criminal justice system and how to interact and communicate effectively with all people involved including the courts, the police, and the attorneys.
During his time as a prosecutor, Eric specifically focused on handling DUI and traffic-related criminal offenses. Between 2017 and 2020 he was part of a small team of attorneys who handled nearly all of the fatal traffic-related criminal cases in Loudoun County. Between 2014 and 2017 he handled the specialized "DUI blood docket" in Loudoun County, containing serious accident cases, and involving the most complex DUI legal issues. For the last four years, Eric has been a part of the faculty in the "Defending DUI and Serious Traffic Cases" live seminar in Fairfax, which teaches DUI and traffic law to northern Virginia attorneys. As a prosecutor, Eric also regularly gave educational presentations to law enforcement officers on DUI and other criminal law topics.
In his final years in the office, Eric handled some of the most significant homicide cases which went to trial in Loudoun County such as Commonwealth v. Tony Dane, Commonwealth v. Sergio Zuniga-Robles, Commonwealth v. Diamante Ellis, and Commonwealth v. Cameron Prince. These trials involved the presentation of complex issues such as DNA evidence, motor vehicle air-bag control module data, and medical evidence on issues of traumatic brain injury.
Prior to his work at the Loudoun Commonwealth's Attorney's Office, Eric worked for the Virginia Attorney General's Office, representing the State Department of Social Services. In that position, he handled a large volume of cases in which he collected child support for needy children in northern Virginia and the Shenandoah Valley.
Since joining King Campbell Poretz & Mitchell, Eric has defended all types of criminal offenses in Loudoun County, and elsewhere in Northern Virginia. He has represented clients on charges from DUI, reckless driving, and domestic assault, and battery to more complex charges of robbery, felony assault, and murder. Eric also periodically volunteers his time to assist with the Loudoun County Circuit Court's Drug Court docket. The Drug Court program seeks to provide rehabilitative services as an alternative to incarceration for people who have been convicted of offenses that were motivated by drug addiction. His expertise and knowledge make him a sought-after instructor on numerous topics, including at the annual Northern Virginia Serious Traffic Defense Seminar in Fairfax, where he has been a presenter from 2017 through 2022.
Other notable cases:
Matthews v. Commonwealth, 65 Va. App. 334 (2015) (a constitutional challenge to a vehicle stop and search)
Wolfe v. Commonwealth, 67 Va. App. 97 (2016) (a constitutional challenge to Virginia's DUI law after a landmark Supreme Court decision earlier in the year)
Reyes v. Commonwealth, 66 Va. App. 689 (2016) (aggravated felony assault involving a gang-related stabbing)
Chaconas v. Commonwealth, Record No. 1137-16-4 (2017) (credit card fraud, credit card theft, and identity theft)
McGuire v. Commonwealth, 68 Va. App. 736 (2018) (false report of a kidnapping)
Education:
J.D., Roger Williams University School of Law, cum laude (2009)
B.A., University of New Hampshire (2004)
Bar Admissions:
Virginia
U.S. District Court for the Eastern District of Virginia